Removing stickers and adhesive from furniture, My best solution, Stubborn adhesive residue, Tried detergent, cooking oil, household lubricant, rubbing alcohol and wallpaper stripper with poor results
A recent curb find, a chest of drawers, was in like new condition but covered all over with stickers.
The stickers, for the most part, pulled away. The plastic ones more easily.
However, the adhesive left behind, was apparently designed to keep the stickers attached forever.
I tried many of the conventional substances and methods.
I tried:
Dishwashing detergent.
Cooking Oil.
Household lubricant.
Rubbing alcohol.
Wallpaper stripper.
None of these worked well.
I ruled out mineral spirits because I did not want to remove much of the stain.
I looked around the house for something that not only might facilitate removing the adhesive but that also might be good for the wood.
I found my old friend Liquid Gold and beside it Old English polish/stain.
This combination, rubbed with fine steel wool, did a far superior job.
My best solution.
Of course, if you try this method, try it on a small portion first.
There are no guarantees expressed or implied but it did work for me.
After stickers pulled off with residue remaining.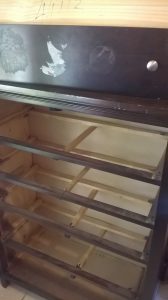 After using Liquid Gold and Old English polish/stain: