Recycled repurposed gun cabinet becomes storage cabinet, All from curbside disposal of neighbors moving, Another no cost project
Granny says: "Waste not want not."
It is interesting how things pop up when I need them.
I was actually going to have to purchase lumber for a grandkid bookcase I built a few months ago when lo, neighbors moved out of state and left 2 things behind that I repurposed.
I used part of a large shelving unit for the bookcase and the remainder of the boards for shelves of the repurposed gun cabinet that was transformed into a general storage unit.
As you can see from the photo I needed one badly and have this one crammed full of "stuff."
It is in my sunroom (aka junk room).
I even have two glass doors left over for another project.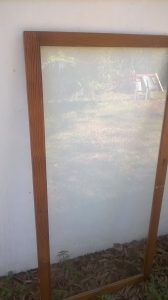 R.E. Cycle