Greensboro greenway cornerstone Meeting Place permaculture orchard and plants, Letter from Revolutionary General Nathanael Greene projected as shadows
Greensboro, NC is named for Revolutionary General Nathanael Greene who fought the British at nearby Guilford Courthouse.
The cornerstone at Prescott and Smith Street has a theme of history and the cover of the seating area has a letter from Greene that projects as shadows.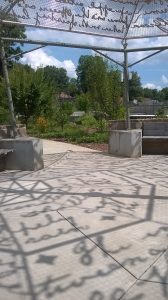 The cornerstone also has a natural area consisting of an orchard and numerous plants.
From O'Henry Magazine.
"Permaculture takes root in Greensboro"
"Once upon a time, public grazing was a no-no. Many of us older earthdwellers remember dire consequences for chowing down on public shrubbery and the fruits thereof. To do otherwise — picking berries, or digging up anything with roots and leaves in public parks would likely earn you a firm swat across your bottom. But lately, freethinking, food-for-the-masses agriculturalists have untightened the rules against free-range munchables, and public grazing is getting a second look.
The rise of permaculutre is the culprit, creating edible landscapes. Former UNCG adjunct professor Charlie Headington is responsible for introducing Greensboro to permaculture 25 years ago after attending a lecture on the system. "I listened for about 15 minutes, realized this was something I wanted to do," Headington says. He and his wife, Deborah, were avid gardeners, the kind who grow fruit in the front yard. "Permaculture gave us a bigger picture strategy, how to integrate fruit trees into it, capture your rainwater."
"In permaculture, some spaces are left wild, others are restored, and still others are highly developed, as in an urban context," Headington writes on the Greensboro Permaculture website, https://greensboropermacultureguild.wordpress.com/about/what-is-permaculture/. "Nutrient cycles, water storage, soil quality, and plant diversity are enhanced, while the resources flowing through the system are slowed down, stored, recycled and used sparingly," he continues. "Small spaces can yield big harvests; human intervention, inputs, and maintenance are kept to a minimum. The aesthetic is pleasingly natural. Eighty percent of the work is in the initial installation, and 20 percent in its maintenance, the reverse of normal gardening, (devoting) less time to weeding and fighting insects and more to designing, harvesting, and learning.""
""Permaculture gardens, farms and landscapes are organic, edible and diverse," Headington writes on his website. "They are practical, low-maintenance and productive. Each element of the landscape, whether, plant, animal, or structural, is placed by the designer in a mutually beneficial relationship to its neighbor, the yields of one supporting the needs of the other. Permaculture designs and builds communities.""
"In addition, there's a Design Studio made up of people with good graphic and design skills. They work with homeowners and others on formulating landscape designs.
The Design Studio is made up of Guild members, some of whom have a degree in architecture, like lead designer Tay Hallas. "But we basically go by word of mouth, by what people like about what we do, and people seeking alternative designs themselves," he says. "We certainly would love to add some landscape architects, but we're kind of just growing now, we're fledglings, so we'll see what happens."
Headington and the Guild are involved in a number of permaculture installations throughout town, working with Action Greensboro, an economic development group, and the Greensboro Parks and Recreation Department's trail division on greenways and other projects. "I was just communicating with Parks and Rec the other day about refurbishing a park that had fallen on hard times," Headington says. "They liked my ideas about bringing in native woodland plants that would also attract birds, butterflies, a variety of healthy insect life, so there's just a growing interest in this."
The Guild is particularly proud of their installation called the Meeting Place on the corner of Prescott and Smith. "It's the first public orchard, was just a gas station at one point and now a popular little park on the triangular lot, with a gazebo," Headington says. "We're growing about 20 kinds of fruit there, have a big strawberry production, have peaches, pears."
It's more than something pretty to look at. "It's part of that whole movement of people to not only be closer to nature, it's not so much a romantic vision, it's useful," Headington says. " It's something we get food from, we gather rainwater, we lower our energy costs, and we have all this fresh food and, of course, kids love it, they're very involved in it." And best of all, the wee ones these days don't get smacked when they dive in for grazing. "
Read more:
http://www.ohenrymag.com/gate-city-journal-5/
At the other end of the large block is Black Diamond Community Garden.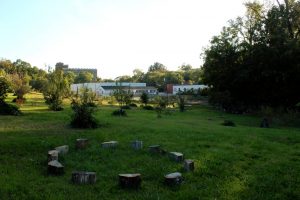 Read more:
http://recycleuses.com/2017/04/04/black-diamond-public-backyard-downtown-greensboro-build-garden-beds-for-community-plots-reestablish-human-and-ecological-connections/