VAWT wind turbine first electrical generation test, 1 stator salvaged from old dryer used (copper wire windings), Stator barely under rotor with magnets creates electricity
The first test of electricity generation by the VAWT prototype was performed today.
Only one stator was used. It was salvaged from an old clothes dryer several years ago.
The stator, copper wire windings, was barely under the rotor which has permanent magnets attached but it still produced electricity.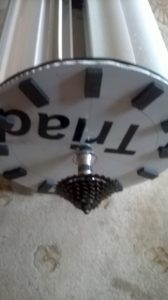 The stator will probably end up being disassembled and mounted with other stators to produce more electricity.
First, different windings and configurations will be tested.