Black and Decker 12v drill battery charger found in trash, Friend Buddy retrieved, Charger not working, Battery holds charge, Charger repaired, Will gift to friend with no drill
This is a good lesson.
In keeping usable items out of the landfill.
In preventing a battery from being improperly disposed.
In repairing items and using recycled parts.
In sharing.
Waste not want not
My friend Buddy (yes his name really is Buddy) recently found a Black and Decker drill, battery and charger in the trash.
He knew that I was involved in recycling and using battery packs and gave them to me.
The drill worked but the battery was run down.
The charger appeared to not be functioning so I charged the battery with my 12v car charger and the drill ran faster.
Next I repaired the charger by replacing the transformer part with one I had saved from an old laptop computer. It also was rated at 12v.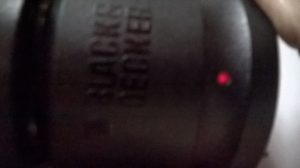 One of my friends is the proverbial "starving artist." He left all of his tools in NJ years ago. He is getting the drill.
Had I kept the drill I would have repurposed the battery connected to an inverter as a backup or portable 110v AC power source  since it is 12v.