Project simple as ABC magnetic letters numbers surface, Metal DVD cover recycled repurposed along with recycled lumber
This is one of the simplest projects I have ever taken on.
I was inspired by a grandchild using a small file cabinet as a surface to place magnetic letters and numbers.
The first time I saw him spell his name he was doing that.
The hand eye coordination for writing evolves. The magnetic letters makes it so much easier to get started.
Since I am forever keeping stuff instead of discarding, I pondered what did I have that would work.
And then it dawned on me.
I had kept a DVD player that conked out. Sure enough, the metal cover was perfect.
All I did was attach some trim boards, lumber I had salvaged, and voila, it was finished. All I paid for was the screws.
Turned over, the work surface serves as a tray to store the letters and numbers.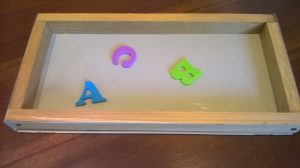 A child could help screw in the boards if you wished.
This is also a great lesson in recycling, repurposing and waste not want not.