Plastic bag film recycling rate 15 percent, Up 3% in 2015, We must do better, EPA WRAP initiative, Find recycling centers here, Use cloth bags return plastic urge friends
Granny says: "Waste not want not."
I knew we had a problem.
Every time I noticed a plastic bag on the street, read a notice from my municipality not to include plastic bags in the recycling bin and every time I disposed of a bag (with a guilty conscience).
I had guessed that we weren't achieving 20 percent recycling of plastic bags and film.
I was right.
We are only recycling 15 percent of plastic bags and film.
We must do better!
I have been trying hard to do better and have.
For some time I have been using cloth bags for my grocery shopping probably achieving about 90 percent success.
I also return my plastic bags.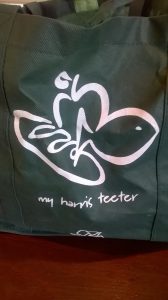 I urge you to do the same and urge your friends to do so.
From Recycling Today March 7, 2017.
"Thirty-four million more pounds of plastic wraps, bags and other film packaging were recycled in 2015, a 3 percent increase relative to 2014, according to "2015 National Post-Consumer Plastic Bag & Film Recycling Report," which the American Chemistry Council (ACC) released during the Plastics Recycling Conference, organized by Resource Recycling, March 6-8 in New Orleans. Nearly 1.2 billion pounds of these materials were recycled in 2015. This marks the 11th consecutive year of increases and the highest annual collection of plastic film since the survey began. Plastic film recycling—a category that includes flexible product wraps, bags and commercial stretch film made primarily from polyethylene (PE)—has increased nearly 84 percent since the first report was issued in 2005, the ACC says.
The "2015 National Post-Consumer Plastic Bag & Film Recycling Report" also found that film processing in the United States and Canada increased 11 percent for the year, while exports declined by almost 4 percent.
"We are very pleased that plastic film recycling continues to grow," says Steve Russell, vice president of ACC's Plastics Division. "America's plastic makers are strong supporters of plastic film recycling and, due to expanding participation in our Wrap Recycling Action Program, or WRAP, we expect to see film recycling continue to rise."
According to the U.S. Environmental Protection Agency's 2014 Advancing Sustainable Materials Management report, the plastic film recycling rate is 15 percent."
http://www.recyclingtoday.com/article/2015-film-rigids-recycling-rates/
From Packaging World November 27, 2016.
"EPA joins WRAP to promote plastic film recycling
The Wrap Recycling Action Program welcomes the U.S. Environmental Protection Agency as latest partner to promote plastic film recycling."
"The American Chemistry Council's Plastics Division (ACC) has formed a new partnership with the U.S. Environmental Protection Agency (EPA) aimed at promoting sustainable materials management (SMM) for plastics. SMM offers a systematic approach to more efficiently using and reusing materials throughout their life cycles to reduce environmental impacts and waste.
Through the partnership, EPA and ACC will work together to:
Decrease disposal rates by tracking and lowering the overall amount of plastics disposed through activities that enable source reduction, reuse, recycling, and prevention.
Reduce environmental impacts—including greenhouse gas emissions, water, and energy use—of plastics throughout their life cycles.
Increase stakeholder capacity to implement SMM through technical assistance and raising the per capita quantity of plastic recyclables recovered.
"We are looking forward to collaborating with ACC to reduce environmental impacts from plastics," says Barnes Johnson, Director of EPA's Office of Resource Conservation and Recovery. "We believe that there are great gains to be made for the environment, our society, and our economy by working together with the ACC on this important issue.""
https://www.packworld.com/sustainability/recycling/epa-joins-wrap-promote-plastic-film-recycling
For those in NC.
"Do stores really recycle plastic bags? Yes"
"You shouldn't worry too much about these plastic bags ending up in the landfill. There's demand from companies that need the material to produce composite lumber, pellets and resins.
A website co-sponsored by the American Chemistry Council — 
plasticbagrecycling.org — lists 15 companies that recycle 
plastic bags in North Carolina, including Target, Wal-Mart, Food Lion and Lowes Foods.
The manufacturers use grocery, retail and newspaper bags; bags labeled with No. 2 or No. 4; and the wrapping around paper towels and toilet paper.
They don't collect food wrapping or other contaminated material.
Trex, a composite lumber manufacturer, collects about 200 million pounds of plastic material each year in the United States, said Dave Heglas, director of material resources. North Carolina is one of five states that collect the most material, he said, with most of that coming from Harris Teeter and Ingles grocery stores."
http://www.greensboro.com/news/local_news/do-stores-really-recycle-plastic-bags-yes/article_54728773-f3e9-5988-b30d-b6dcfb0f196a.html
You can search for the nearest recycle center and learn more about what can be recycled here:
http://recycleuses.com/plastic-bag-recycle-center-search/
R.E. Cycle