Repurposing recycling evolution of 3.3 million years, From stone tools to wind generators, Always about survival and still is, We must improve our recycling and disposal of plastic products
Granny says: "Waste not want not."
Hominids have been altering objects in their environment (repurposing) for 3.3 million years.
Evidence has been found of stone tools created by early man or hominids.
From the BBC May 20, 2015.
"The world's oldest stone tools have been discovered, scientists report.
They were unearthed from the shores of Lake Turkana in Kenya, and date to 3.3 million years ago.
They are 700,000 years older than any tools found before, even pre-dating the earliest humans in the Homo genus.
The find, reported in Nature, suggests that more ancient species, such as Australopithecus afarensis or Kenyanthropus platyops, may have been more sophisticated than was thought.
"They are significantly earlier than anything that has been found previously," said Dr Nick Taylor, from the National Centre of Scientific Research (CNRS) in France and the University of Leiden in the Netherlands.
"It's really quite astonishing to think what separates the previous oldest site and this site is 700,000 years of time. It's monumental.""
"They include sharp flakes of stone, sheared off from larger rocks, which were most likely used for cutting.
Hammers and anvils were also excavated, some of which were huge in size.
"The very largest one we have weighs 15kg, which is massive," Dr Taylor told BBC News.
"On this piece, it doesn't show the signs of actually having been flaked to produce other artefacts… rather, it was probably used as an anvil.
"It probably rested in the soil and the other cobbles brought to the site, which were intended to be smashed apart to make tools, were struck against this large anvil."
Dating of the volcanic ash and minerals around the tools suggests that they are 3.3 million years old."
Read more:
http://www.bbc.com/news/science-environment-32804177
From the BBC October 1, 2009.
"The extraordinary true story of a Malawian teenager who transformed his village by building electric windmills out of junk is the subject of a new book, The Boy Who Harnessed the Wind.
Self-taught William Kamkwamba has been feted by climate change campaigners like Al Gore and business leaders the world over.
His against-all-odds achievements are all the more remarkable considering he was forced to quit school aged 14 because his family could no longer afford the $80-a-year (£50) fees.
When he returned to his parents' small plot of farmland in the central Malawian village of Masitala, his future seemed limited.
But this was not another tale of African potential thwarted by poverty.
Defence against hunger
The teenager had a dream of bringing electricity and running water to his village.
| | |
| --- | --- |
| | Many, including my mother, thought I was going crazy – people thought I was smoking marijuana |
And he was not prepared to wait for politicians or aid groups to do it for him.
The need for action was even greater in 2002 following one of Malawi's worst droughts, which killed thousands of people and left his family on the brink of starvation.
Unable to attend school, he kept up his education by using a local library.
Fascinated by science, his life changed one day when he picked up a tattered textbook and saw a picture of a windmill.
Mr Kamkwamba told the BBC News website: "I was very interested when I saw the windmill could make electricity and pump water.
"I thought: 'That could be a defence against hunger. Maybe I should build one for myself'."
When not helping his family farm maize, he plugged away at his prototype, working by the light of a paraffin lamp in the evenings.
But his ingenious project met blank looks in his community of about 200 people.
"Many, including my mother, thought I was going crazy," he recalls. "They had never seen a windmill before.""
"The finished product – a 5-m (16-ft) tall blue-gum-tree wood tower, swaying in the breeze over Masitala – seemed little more than a quixotic tinkerer's folly.
But his neighbours' mirth turned to amazement when Mr Kamkwamba scrambled up the windmill and hooked a car light bulb to the turbine.
As the blades began to spin in the breeze, the bulb flickered to life and a crowd of astonished onlookers went wild.
Soon the whiz kid's 12-watt wonder was pumping power into his family's mud brick compound."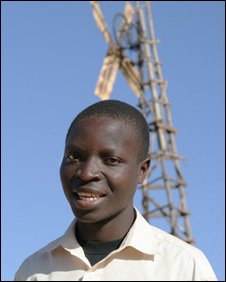 Read more:
http://news.bbc.co.uk/2/hi/8257153.stm
Most of the talk these days is about "global warming" and CO2 in the atmosphere.
But a clearly real problem that we have is pollution of our water.
We must do a better job in our discarding and recycling of plastic products, bottles, bags, etc.
Recycling is not just a trendy fashion statement but is still crucial to our survival.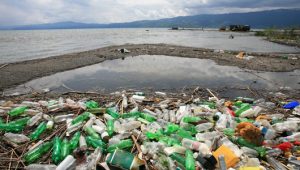 BTW, I have a wind generator in my back yard made from a car alternator. Repurposing.