Kid and family recyling project salvaging hardware, Nuts bolts screws etc., Teach use of tools how things work saving valuable items from dump saving money teamwork, Use hardware in subsequent projects, Waste not want not
Granny says: "Waste not want not."
This project is one of my favorites.
I have been doing it as long as I can remember.
I was inspired by an elderly next door neighbor and by the necessity of doing so for lack of funds.
However, I soon realized that there were other benefits, such as having a nut bolt or whatever when I needed one without the necessity of a trip to the hardware store which as a byproduct saves time and gasoline.
I now realize there are many more benefits when sharing this with a younger person, especially a family member.
"Give a Man a Fish, and You Feed Him for a Day. Teach a Man To Fish, and You Feed Him for a Lifetime."
Teach your young ones the value of recycling and repurposing.
This project involves the use of tools, a valuable skill for everyone.
So while you are teaching how to salvage hardware, you will also teach tool skills.
A crescent wrench and screwdriver will go a long way.
I gave my 2 year old granddaughter a small one and a simple setup to practice on.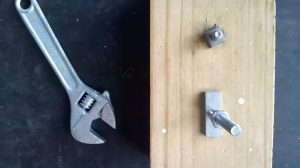 Of course use common sense, with supervision as required and age appropriate projects.
Give them ownership of the hardware and provide a container that they can keep ad ifinitum, plan subsequent projects to use some of the hardware and on trips to the store, show them the money and time they saved.
Also explain the foolishness and impact of sending the hardware to the landfill.
And of course, practice what you preach.
I do.
R.E. Cycle