Admiral Grace Hopper: my encounter escorting her to college speech, Classic Hopper speech using wire to reveal nanosecond electrical travel, Book she sent
I was "cleaning house" recently and came upon a book given to me circa 1980 by Admiral Grace Murray Hopper (a captain then) after I escorted her to a speech she gave at the small college in NC where I taught Computer Science.
My first thought was that the book was kept out of sight, collecting dust and should see the light of day and serve a purpose. I initially thought of selling it, perhaps on Ebay, but then decided it should go to the right person or place.
The more I thought about it and looked on the internet, the more I realized that the book, as well as the article should be shared.
The only reference on the internet to the book she gave me was here:
David Linowes Papers: A Guide to His Papers at the Jimmy Carter Library Collection Summary
Container 24
Selected Computer Articles 78 – Department of Defense Computer Institute
https://www.jimmycarterlibrary.gov/assets/documents/findingaids/Linowes_David.pdf
I could find no reference on the internet except for a few quotes to the article she wrote: "David and Goliath" so I typed in the article and placed it here:
http://recycleuses.com/2018/01/08/grace-murray-hopper-usnr-david-and-goliath-selected-computer-articles-78-department-of-defense-computer-institute-recycled-book-article-and-words/
Many opinions about Grace Hopper's personality have been written.
Though my encounter was a tiny snippet in her long career, I believe it is important to tell my story.
Grace Murray Hopper coined the phrase computer bug and helped develop early computer languages. She also had a personal side and had a devotion to education.
I taught computer science at a small college in NC from 1976 to 1981.
I had the great fortune and honor to escort  Capt. Grace Murray Hopper to a speech she gave at our college during the 1979-80 academic year.
I conversed with her in my car, to and from the college for approx an hour as well as to and from the airport and her motel.
She was very personable and asked many questions about my background, my family as well as the curriculum at the college.
Cobol, one of the languages she was involved in developing, was one of the first programming languages I learned in 1968 and used in the seventies.
She told me that she would send some articles she had and promptly did so shortly after her speech.
Her speech, one of her classics, employed one of her visual aids, a short length of copper wire. She used this to explain what a nanosecond meant in computer and electrical terms. The distance electricity traveled in a nanosecond.
Grace Hopper explains nanoseconds.
The book she sent me.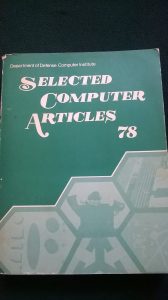 And the note from her desk.