Tate Street Coffee House waking up Greensboro with coffee and recycling efforts, Coffee grounds and plastic bags kept from landfill, Pasta stir sticks
Tate Street Coffee House has been waking up Greensboro with coffee and their recycling efforts and hopefully will wake up/inspire others to recycle coffee grounds and other materials as well as use fewer plastic bags. They have been involved in recycling from the beginning in 1993.
The tables and chairs as well as decor were recycled.
Coffee grounds have been available for customers for years.
Months ago they began using pasta for stir sticks replacing plastic ones.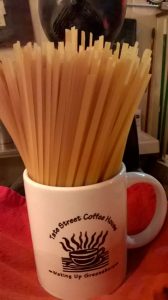 They use real coffee cups, plates and silverware as much as possible.
Up until now, coffee grounds were initially dumped in plastic bags and disposed of if not taken by a customer.
Beginning today, the grounds will go into a 5 gallon bucket and be retrieved by customers for composting or fertilizer.
Austin, the manager, came up with a clever idea to replace the trashcan with top which was positioned under the expresso machine. This should ease the transition.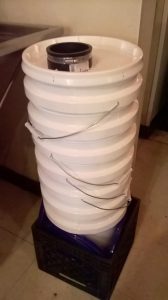 No more grounds or plastic bags going to the landfill.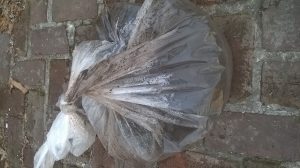 This effort along with recycling information will be shared with customers.
From the Tate Street Coffee House website.
"Opened in 1993, Tate Street Coffee has become an institution renowned for its unique decor and fine coffee
All of our coffees are Fair Trade and Organic, and we offer a dozen different varieties, along with signature lattes, ciders, a great hot chocolate, and of course, bold and invigorating espresso. We truly have something for everyone!
We feature live music with a Jazz Jam on Thursday nights, live jazz Saturday and Sunday mornings, and Irish music on Sunday afternoons- and what better way to enjoy the music than with one of our locally crafted beers, one of our popular sandwiches, or even a glass of wine?
Monthly art shows and an annual community Coffee Art Show attract local talent and add to the shop's cozy atmosphere."