Waking up green Greensboro world (and maybe worms) to recycling coffee grounds plastic bags more, Recycling coffee grounds from coffee shop to bucket to compost, Not plastic bag to landfill, Cycle of life triumphs
Granny says: "Waste not want not."
I have been composting coffee grounds from my favorite coffee shop and my kitchen for some time. The worms seem to thrive in them (waking them up too?)
I have been working with the manager to streamline the process, eliminate more plastic bags and involve more people.
The coffee in the photo was collected this morning.
We are keeping coffee grounds and plastic bags out of the landfill which subsequently improves my garden and saves money.
This coffee shop for some time has replaced plastic stir sticks with pasta.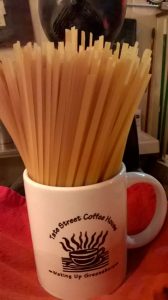 As the project progresses, we hope to involve and educate the public, both locally and global.
Americans are only recycling approx. 15% of plastic bags.
That is unacceptable!
R.E. Cycle