VAWT wind turbine testing in higher wind speeds, Salvaged stators (copper wire windings) to be separated, Stator mounting plan, Exciting ideas to be explored
Testing continues on the VAWT prototype.
Recently the wind turbine was filmed in 14 mph winds.
The voltage output was also tested again.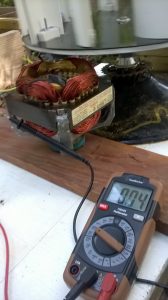 Stators (copper wire windings) from salvaged motors were located and will be separated from their mounting.
As you can see from the photo, some of the windings have already been separated and were used in prior projects.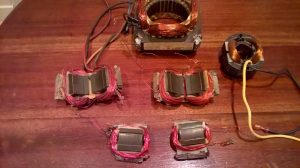 I have decided on a simple way to mount the stators for testing.
I have also come up with some interesting ideas to boost the output of the prototype VAWT wind turbine.
More to come.