Cycle recycle reuse repurpose bicycles wheels and parts, Purchased last bike used from Recycles bicycle shop, Get the wheels turning ride a bike
Granny says: "Waste not want not."
I have been recycling most of my life, bicycling most of my life and salvaging bikes and bike parts most of my life.
I purchased my latest bicycle from Recycles Bike Shop.
"Owner and master mechanic, Merritt White, has been working on bikes since he was only 7 years old. After 2 decades of wrenching and working in the bike industry, he decided to fill a void in the local bike scene by opening ReCycles Bike Shop in 2005. For over 10 years ReCycles has been a primary resource for both advanced riders looking for niche, boutique bikes and high-end service, as well as burgeoning riders looking for an entry-level bike that won't break the bank. In addition to helping those less fortunate in our community through servicing the bikes of the homeless and needy, ReCycles also offers mobile repair service through its newest addition, OnPoint Mobile Service."
I worked on my own bicycles when I was young.
The bike I learned on was discarded, hence my first bicycle recycling project.
I still salvage curb discarded bicycles and parts and often use them to restore or for parts.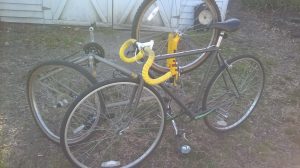 Yard sales can yield some great values as well.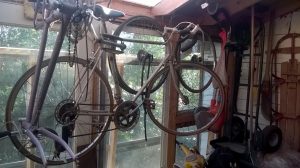 I have also seen photos of bike parts being used to generate electricity using the chain to drive a generator or the wheel used to make a wind generator.
Get the wheels turning.
Ride a bicycle and if you see one discarded, keep it out of the landfill.
Use the bike or parts or see that it gets a new home.
R.E. Cycle